This course is closed for enrolment.
The doors to The Brand Framework are due to open again in the Autumn.
Click here
to join the waitlist.
Or, how about...
Working with people that appreciate you and your expert opinion?
Because you are an expert, that's why you started doing this, and your clients may not know it. Yet.
Instead, learn the skills and strategies to build a brand that can help you stand out from the competition, position yourself in front of your dream clients, and be seen as an expert in your field.
If you want to build a brand that can help you get more leads in the door and convert them into clients...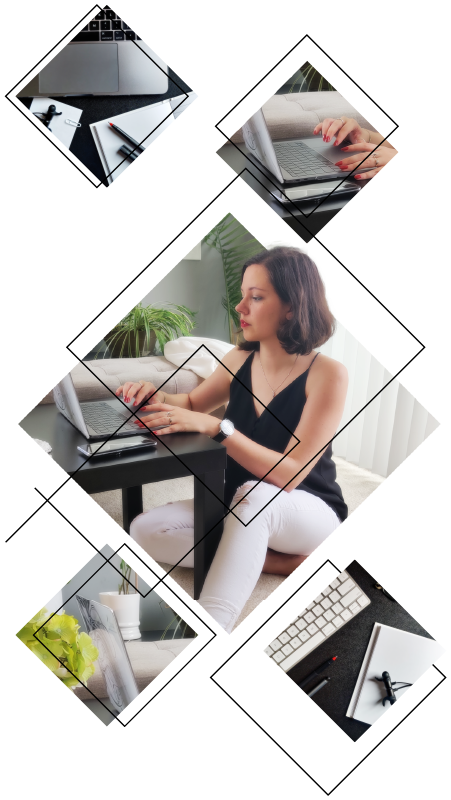 Here's the problem…
You know that in order to attract your dream clients, you need to know who they are…
However, you're constantly being undervalued and it's causing you to doubt yourself, asking questions like…
Do I really know who my clients are?
Why are none of my followers buying from me?
How do I show I am the expert in my field?
How do I talk about myself and my services?
And the most damaging thought of all... Why would they choose me?
Now, imagine…
…creating a brand that draws in your ideal audience and helps convert them into dream clients.
What would happen?
You would spend less time trying to figure out how to market yourself and your services

Your

dream clients are reaching out

to work with

you,

specifically

You're doing what you love

, while your brand grows in popularity in your niche

You're invited

to podcasts, lives, talks, and summits

as an expert

in your field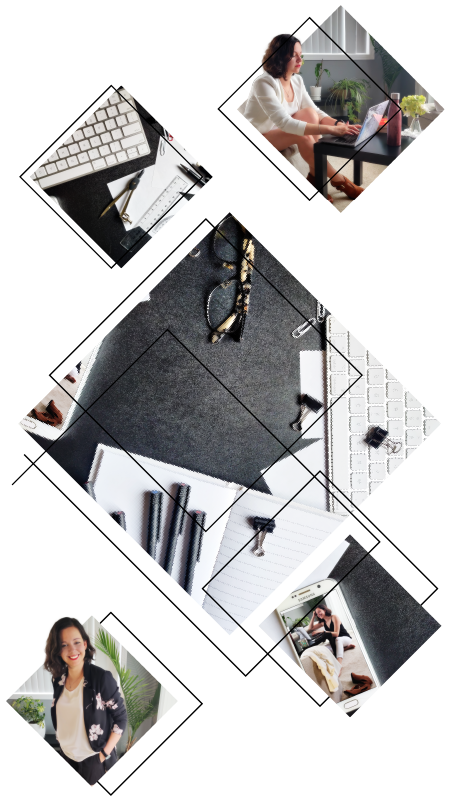 If you want to learn how to build a brand that sells on your behalf, I have something for you…
Here's what Charlotte said about me…
"Kristina is an excellent branding consultant who blends her skills in graphic design and publishing to produce unrivalled results. She is an outstanding communicator who acts as the glue in teams to keep cohesive projects running smoothly and on track for success."
Here's how it all breaks down...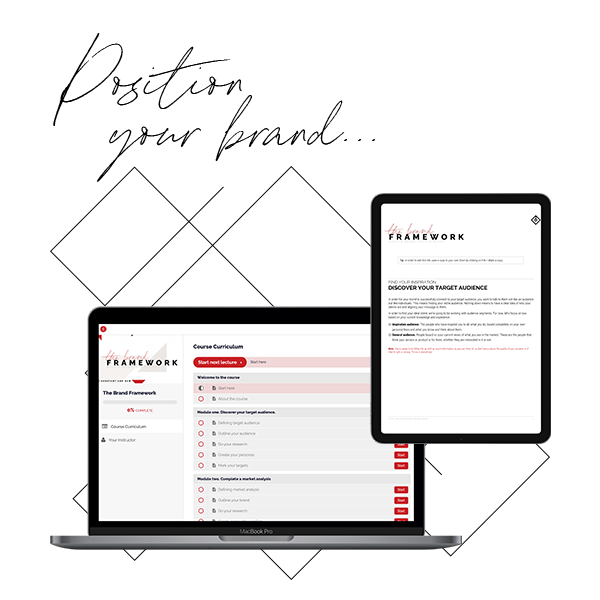 Module one. Discover your target audience
Find out who your target audience is and who, from within, are your ideal clients to work with. 
Learn how to attract your ideal clients and set boundaries for the ones you want to avoid.
Module two. Complete a market analysis
Discover your competitors in your niche, both direct and indirect, and what their extremes are. 
Find out what makes you different and why your ideal clients will want to work with you.
Module three. Prepare your awareness goals
Figure out where your ideal clients are hanging out, so you can position yourself in front of them.
Set realistic and achievable goals to start and how to grow your brand awareness.


Module four. Discover your purpose
Explain why you do what you do, beyond the personal reasons, focusing on a passion of yours.
Find a global cause that your brand can support and use to connect with your audience.
Module five. Outline your values
Learn how your audience has seen you until now and how to alter their perceptions for the future.
Figure out your brand's values and what role they play in both your internal and external brand. 
Module six. Reveal your vision and mission
Put your aspirations into words and tangible goals you and your brand can achieve together.
Find the steps to help you reach your ultimate goal and how to keep track of your brand's progress.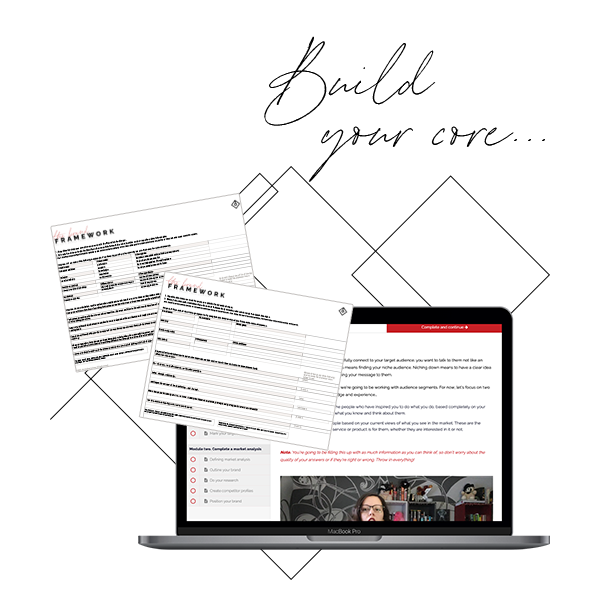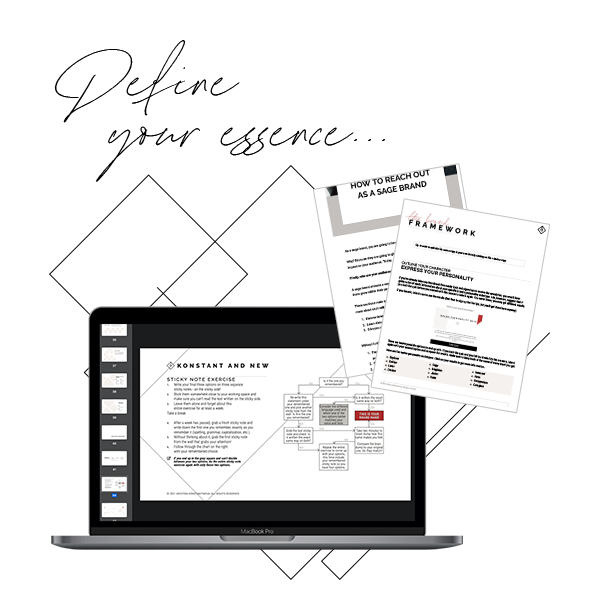 Module seven. Express your personality
Learn what makes your brand human so it is easier for your audience to connect with and talk to it.
Discover more about your audience's personality and take actionable steps to connect with them.
Module eight. Find your voice and tone
Learn how to speak to your audience, so you can connect with them and they listen to you.
Be comfortable talking to your audience during any event, even a global pandemic.
Module nine. Keep track of your language
Create a communication style that is unique to you and turn it into a language style guide.
Find the words that will get your entire brand message across to your audience.
Module ten. Create your visual identity
Get the most important visuals aspects of your brand out with your logo, colours, and fonts.
Connect each of your decisions to your audience, so you draw them in and convert them into clients.
Module eleven. Add on your elements
Choose additional visual elements that represent your brand and make you stand out.
Decide how all of your information will be shown, including data, and other visual rules and cues.
Module twelve. Organize your assets
Create your business collaterals and templates, so your audience can start memorizing who you are.
Combine your entire brand strategy and identity into a set of guidelines that you can refer to.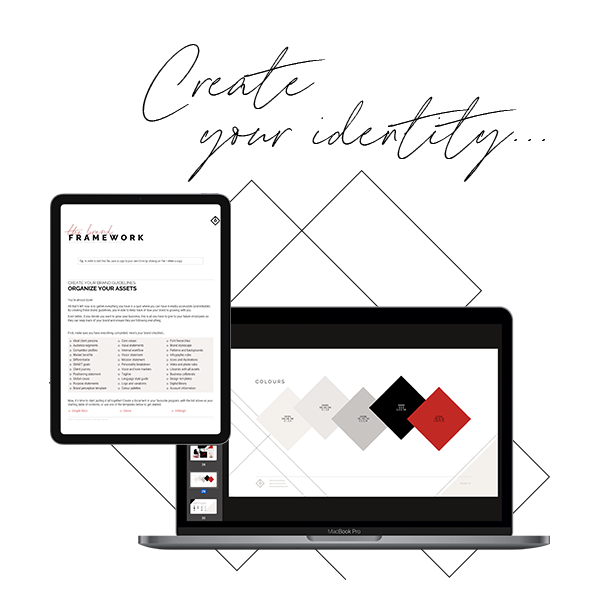 What makes The Brand Framework different?
The Brand Framework is the first program of its kind that combines both strategy and design training with done-for-you templates and real-life examples so you can implement what you're learning immediately. 
The end result... a brand that looks and sounds like you, attracts your ideal clients, and (the best part) all of the training and templates so you can help your brand grow with you.
Every single step in creating a brand is included, nothing skipped, so that when it comes time to creating your visuals, you know exactly how to translate your research into designs like your logo. 
Take a peek at one of my favourite exercises in The Brand Framework.
This simple walkthrough flowchart will help you make the final decision between multiple options.
This exercise is used multiple times in the course and can be used any time you have to make the final decision.
The power of this exercise is that it uses both research and your subconscious desires to get the final result. 
Are you ready to use your brand to its full potential?
When you join today, you'll get…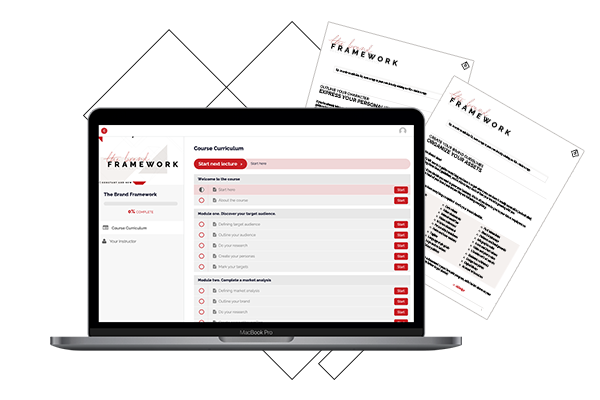 Lifetime access to all current and future materials
Work together with your peers to get your brands finished, plus lifetime access and free updates for all course materials.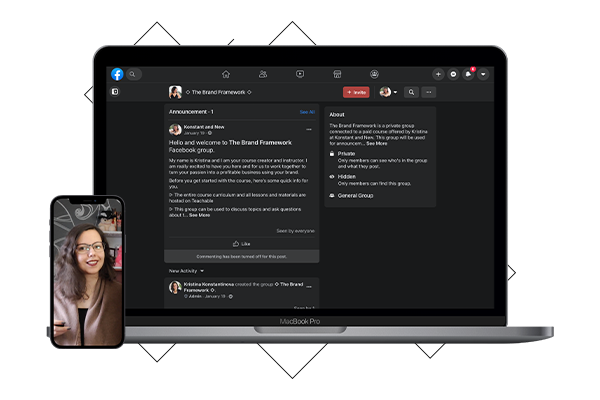 Live bi-weekly Q&A sessions
Get all of your questions answered either by your peers in our private community or during our live bi-weekly sessions with me.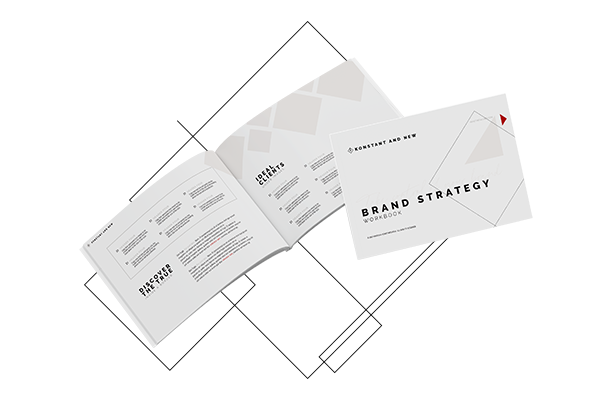 Brand Strategy and Visual Identity Workbooks
Including exercises, templates, instructions, and real-life examples to guide you through creating a strong brand.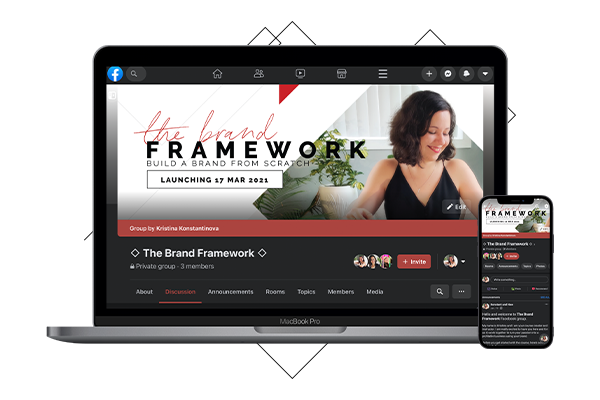 Access to a Private Community
Connect with your fellow students in the course to grow together, learn from one another, and present your brand.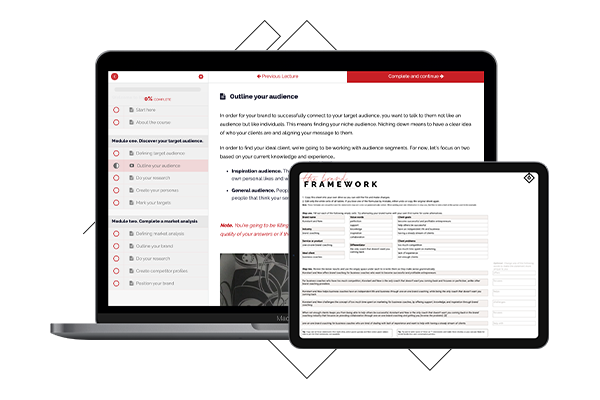 Free promotion for your brand
Get the chance for your brand to be used as an example for future students, so they can see what you and your brand have to offer.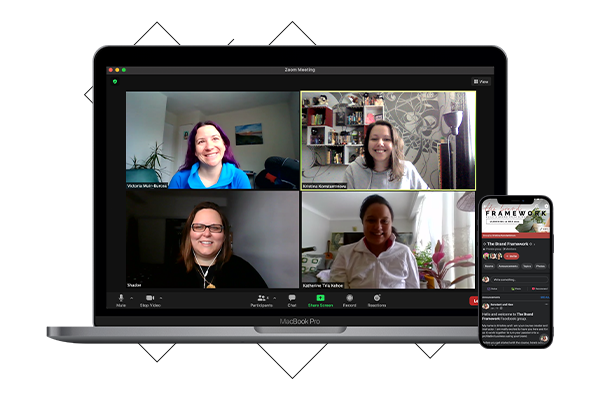 Live quarterly peer-review sessions
Present your brand, pitch your business, and check your progress during our quarterly live sessions and get both expert and peer opinions.
Along with all of that, you will get access to…
In addition to everything inside of The Brand Framework course, I'm also going to throw in a few bonuses to give you a kickstart using your brand outside of your business space.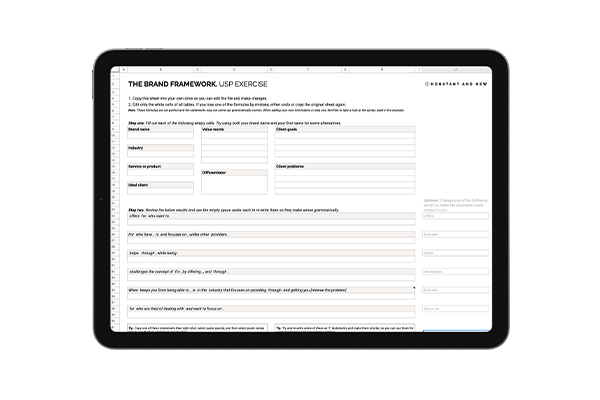 Formulas to create your Unique Selling Points
Including examples and formulas for unique statements that you can use in your marketing materials, sales pages, social media bios, and pitches.
Value of $197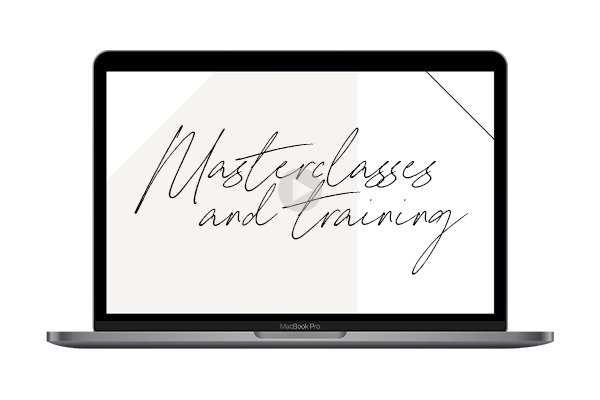 Masterclasses by experts in their respective fields
Want to know more about how to carry your brand into your marketing? How to write captions? There's an expert out there for each of these and more! 
Value of $397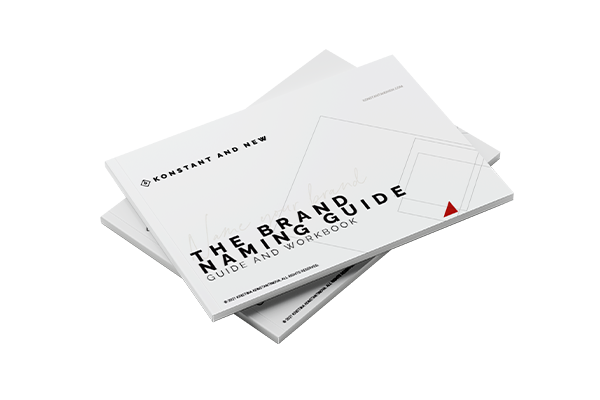 A first look at the Brand Naming Guide
This guide includes instructions on creating your brand name through five different methods, checklists to see if it works, crafting a behind-the-name paragraph, and more.
Value of $297
Total value of $7,623
At the low cost of $597
or three monthly payments of $247
Here's a message from Marianne, a branding client…
"I've never worked with anyone that cares more about customer satisfaction than Kristina at Konstant and New. I was quite literally looking for something NEW; to build a new brand and all that that entails: new logo, new website, print materials, signs, etc. I didn't know where to begin. I had a bunch of ideas scattered all up in my head. Even when I couldn't quite articulate these ideas effectively, Kristina was patient and supportive, and somehow figured out what I wanted. Kristina not only got me organized, she was able to recommend and prioritize what was needed."
Meet your course creator…
Hey, I'm Kristina!
After working with some amazing entrepreneurs and solopreneurs over the past 10 years on building and designing their brands, I've discovered the formula for converting data into visuals and using the subconscious to help both you and your audience make decisions. 
Design without a strategy doesn't work and I know how scary it can be to invest in one-on-one coaching, which is why I created this course, expanding my usual coaching program to help any freelancer or contractor create their own brand and own up to the title of Entrepreneur. 
I can't wait for you to get your hands on these exercises and templates so you can learn how to use your brand to consistently bring in quality leads.
See you inside!
You have questions? 
I have answers.
Q. What format are the templates and exercises?
All templates and exercises will be accessible through Google Docs. Meaning, all you need is a Google account to copy the files into your own drive, and then you can go crazy with them! 
Q. How long does it take to complete?
The timing will be open for you to take as long as you want, and with lifetime access that can be a while. However, there will be a #12weekchallenge to complete your entire brand in three months or less.
Q. What if I've already done this research?
If you've done any of your research already, it's implemented, and working - we're not going to fix what's not broken! However, I do suggest going through the exercises to double-check you have all of the final results, as most exercises are interconnected and the results from one can be used in another.
On the other hand, if you've got everything, take the week and go over the bonuses! Take a look at what else you may be interested in learning about and share your experience with other students. 
Q. Will my design work be done for me?
The entire last section of this course, consisting of three modules, will include exercises and templates on creating your brand's visual appearance based on your research but, ultimately, you'll be the one doing the designing. Don't worry, I'll help ;)
Q. Is it live or recorded?
Yes to both! All of the videos for the lessons are recorded so you can access them at any time, and I will be live and active in our community and for the live sessions.
PS. If you're interested in a VIP package and having me helping you along every step of the way, reach out and let me know!
Enrol now! Risk-free!
You're backed by a 100% risk-free money-back guarantee!
For those of you who are on the fence and have tried different branding programs with little success or don't know me that well, I want you to feel secure in your purchase!
There's literally no risk involved because you're backed by a 7-day from purchase money-back guarantee. I am that confident that you will get value from this program.
The Brand Framework
Build a brand from scratch
Still not sure if The Brand Framework is for you? 
This program is a perfect fit for you, if…
You are DFy service provider who is ready to start having regular clients and getting paid your worth
You are an expert in your field and know how to do your sh!t, but aren't sure how to let others know you're open for business
You've googled branding and spent hours down the internet rabbit hole and are finally ready to get the answers
You're hardworking, dedicated, and ready to be seen as an expert in your field